Here is why a full-time employee is four times less likely to earn time-and-a-half income than in the 1970s.
Amid surging inflation, tens of millions of American workers face fast-declining buying power today, but full-time employees in many professions have been losing economic ground since the 1970s. That is when corporate lobbyists began to succeed in their anti-overtime efforts. The result: Over the last 47 years, there have been sharp reductions in the percentage of workers eligible for time-and-a-half pay. The question is why?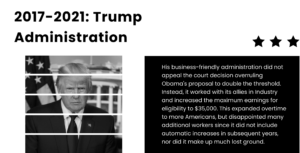 This is the third in a series of four articles about overtime, produced by Capital & Main in partnership with the McGraw Center for Business Journalism at CUNY's Newmark Graduate School of Journalism and Type Investigations, with support from the Puffin Foundation.